Fitment Instructions Guide


BRAKE DISC ROTOR REPLACEMENT INSTRUCTIONS.
THE BRAKE DISC ROTOR IS A SAFETY CRITICAL COMPONENT.
The replacement of the Disc Rotor is necessary when the braking surfaces are deeply scored or the minimum thickness is below the one indicated on the rim of each disc rotor and in our catalogue. Please note that the minimum thickness measurement is a requirement by law and the machining of a disc rotor under this standard is not allowed.
FITTING INSTRUCTIONS
You have purchased a black passivated rotor that eliminates the need to wash down any heavy duty packing I storage oil, used in the past.
To fit the Disc Rotor, the following operations must be applied accurately:-
Make

sure

that

the

surfaces

of

the

coupling,

either

wheel

hub

or

axle

shaft

,

are

clean

without

burrs

and

bruises.
Check

the

run

out

of

the

mounted

Disc

Rotor,

whi

ch

should

not

exceed

0

.

1

Omm

Rotate

and

clean

the

entire

rotor

contact

surface

with

a

warm

soapy

cloth

to

remove

the

easy

wipe off

protectant

and

any

contaminants

transferred

during

fitment.
IMPORTANT
Always replace Disc Rotors in pairs to ensure a matched performance.
Replacing only one Brake Disc Rotor can be dangerous, causing "out of balance" when the brakes are applied.
Always fit new brake pads with the new Disc Rotors.
Avoid excessive or high speed braking until the Disc Rotor and pads have had a chance to "bed in" to avoid heat spots and the subsequent reduction in braking efficiency.
A recommended distance of 200 - 300 Kilometres is recommended for running in purposes.
REMEMBER
Brake pads and Brake Disc Rotors are safety critical components and regular inspections are essential for your safety.
RDA & EBC Brakes Warranty period Rotors & Drums : 12months I 20,000km
WARRANTY
RDA will replace our product under warranty within the above stated period, however there is NO WARRANTY expressed or implied for race or track use.
To claim warranty please return goods to the fitter/supplier who will need to complete the appropriate RDA paperwork detailing the reason for the warranty claim.At the same time, ensure you return the problem parts to enable us to complete further analysis.
Please note: No claim can be processed without the problem parts being returned and appropriate paperwork completed by the mechanic/distributor.
Contact details:
Rotors and Drums Australia (RDA)
34-36 Fiveways Blvd, Keysborough, Victoria 3173 Ph: warranty hotline 1300 4ROTOR I 1300 476867
Please note:
RDA products come with guarantees that cannot be excluded under the Australian Consumer Law.
You are entitled to a replacement or refund for a major failure and compensation for any other reasonably foreseeable loss or damage. You are also entitled to have the goods repaired or replaced if the goods fail to be of acceptable quality and the failure does not amount to a major failure.
(Please refer to the ACCC website www.accc.gov.au for a description of acceptable quality and major failure and search for Consumer Guarantees a Guide for consumers.)
According to Australian consumer law "Manufacturers are not responsible for problems with goods beyond their control. They do not have to pay damages if goods do not meet the consumer guarantees due to:
an act, default, omission or representation made by some other person. (excluding an employee or agent of the manufacturer)"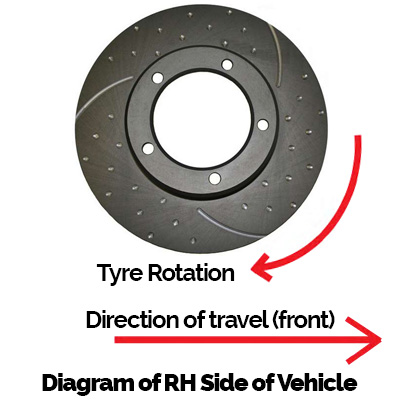 BEDDING-IN INFORMATION
A correct bedding-in procedure is critical, as it will eliminate many issues and maximise brake performance.
The bedding-in process involves a gradual build up of heat in the rotors and pad compound.
This process will lay down a thin layer of transfer film onto the brake rotor surface, which reduces rotor surface roughness, cutting down on pad movement which reduces the chance of noise.
When bedding in a car, try to do it without stopping completely or braking longer than 3-5 seconds, allow a non-braking period between applications for cooling, and before parking at the conclusion of drive allow for a extended time without braking, to maximise cooling of brake components before the vehicle is stationary.
PROCEDURE
Increase speed to 40km/h, put brakes on lightly reducing speed to 20km/h

Increase speed to 60km/h, put brakes on lightly reducing speed to 40km/h

Increase speed to 80km/hr put brakes on lightly reducing speed to 60km/h

Drive for a while at 60km/hr letting brakes cool slightly

Apply brakes lightly at 60 reducing speed to 40km/hr

Drive for a while at 40km/h letting brakes cool

Apply brakes lightly at 40km/hr reducing speed to 20km/hr

Increase speed slowly to 60km/h

Apply brakes lightly at 60km/h reducing speed to 40km/h

Increase speed to 60km/h, drive for a little while then apply brakes, reducing speed to 40km/h

Repeat previous step 2 more times

Drive for 2-3 minutes without braking to cool brake components before parking